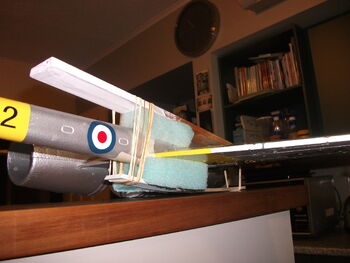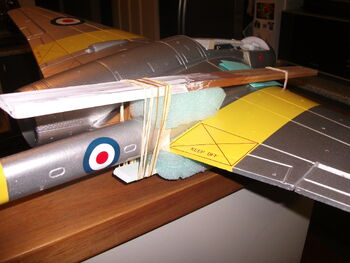 TIP1: REMOVE THE LOWER EDF COVER BEFORE GLUEING THE WINGS IN!!! If you do not, you run the real risk of glueing it in permanently with the wings.
TIP2: RUN THE ELEVATOR SERVO EXTENSION INTO THE STARBOARD WING AND INTO FUSELAGE, BEFORE GLUEING WING INTO FUSELAGE!!!
Ok so your double-boxed Vampire is sitting in front of you. Any gouges or dents? If yes hopefully you can give it back to your courier with "thanks, but no thanks - send it back!"
If all good - cool open 'er up. Each of the major components are heat-sealed in a plastic bag and taped to cardboard sheet. Obviously unwrap carefully and ensure you have everything, the user manual lists everything that should be in the box. When you get to the screws for the control-horns and think: 3 x horns x 4 holes each = 12 screws? Why only six? Well Durafly have figured 2 screws per horn is fine.
A suggested assembly sequence is below. A suggested glue is UHU-POR.
Glue pilot into cockpit
Glue canopy onto cockpit
Push all servo cables down into slots and tack-glue cables down
Glue & screw control horns into position (two screws per horn, turn backing plate with "bumps" facing INTO the foam, so they catch the theads on the two screws.)
REMOVE EDF COVER FROM LOWER FUSELAGE
Glue port wing into fuselage. By looking into fuselage you can see if wings are hardup against their stops
Sit boom on starboard wing and run elevator servo-extension cable through slots to meet up with starboard aileron and landing gear servo cables
Glue starboard wing into fuselage
Glue starboard boom to wing (see photo for one method of applying pressure while the glue sets)
Glue port boom to wing (see photo for one method of applying pressure while glue sets)
Spread booms and dry-run fit the horizontal stabiliser/elevator.
Run elevator servo cable
Glue horizontal stabliser into booms
Run servo cables, ESC, Rx etc cables through fuselage and cable-tie everything down carefully. You do not want anything to be sucked into the fan unit!
Optionally glue in boom CF reinforcements and/or wing 3mm CF tube.